Well that didn't take long. I apparently have a true addiction to craft. Though I couldn't bring myself to knit, I did instantly glom onto crochet, sewing -- I got out mom's hand-me-down Bernat machine and sewed up some cloth napkins, and even picked up the Autumn cross stitch project that has been sitting on the bed-side table since, um, LAST Autumn. Ah well. When I discussed with the husband the fact that I went almost 3 entire days & nights without knitting, he'd had no clue. To him anything slightly craft related is "knitting". He was not impressed with the magnitude of my knitterly loss. Ah well. I'z back now.

And I haz official FINISHED OBJECT photos! YAY!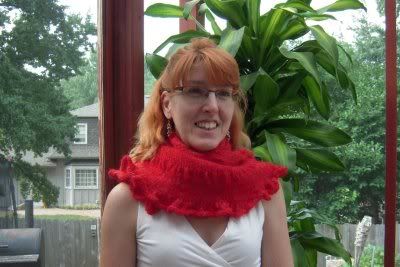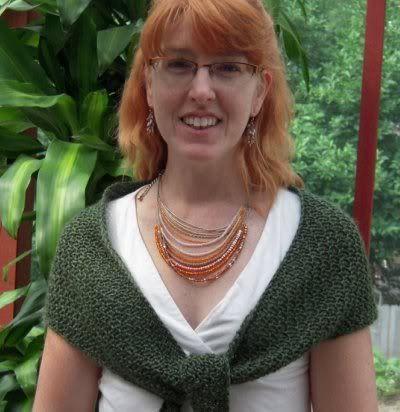 Red/orange fluffiness is some hand dyed (by moi) 50/50 mohair/alpaca knit in
Citron
, an awesome free pattern from the Winter 09 issue of knitty.
The green number is knit with 2 skeins of Plymouth Mulberry Merino 50/50 merino/silk, only $8.50 a skein from a LYS, Knit Wit in Olathe, KS (no website). The pattern is mine,
the Hippie Headkerchief & Shawlette
. Only modifications are to knit until I ran out of both skeins, creating a little larger shawlette and also continued the stitch pattern right up until the bind off row, not doing a garter stitch edge. I love it so very much and just know it'll get worn a LOT this fall/winter! If you're interested in the shawlette pattern (shown here in green), it's $3. You don't have to have a paypal or ravelry account to purchase.