For the husband's Xmas present this year I'm planning ahead. I know, I can't believe it either. We'll see how well I do when December rolls around. My goal is to give him 7 pair of socks. Yes, I realize it's now the end of May and I've not quite completed one pair, but at least I'm not starting a sweater on Dec 14th like last year! So far, I'm on the heel of the 2nd sock of the first pair of fingering weight socks. He loves worsted and dk weight socks, so I should still be able to crank out 2 pr per month and still make goal. Here's sock #1 modeled on my own toes...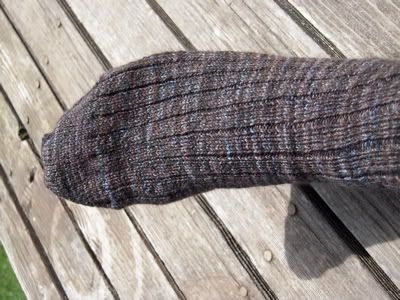 Yarn: Rio De La Plata Needles: 1.5 Hiya-Hiya dpns (my all-time faves!) Pattern: my own 3X1 ribbing, top-down. CO 72 sts, 1 inch of 1X1 ribbing, slip stitch heel, 3X1 rib down to toes where I kitchener 28 stitches together. And yes, I still sing each and every time I do it. "Knit, Slip purl....purl, slip knit." over and over and over. I freaking love kitchenering toes. I don't get out much.
In a fit of finish-itis (it doesn't happen often, so I'm taking advantage of the feeling) I found and finished my Tess Supersocks. OH they're beautiful and such lovely yarn to knit with! Again with my 3X1 pattern but cast on 68 stitches for me.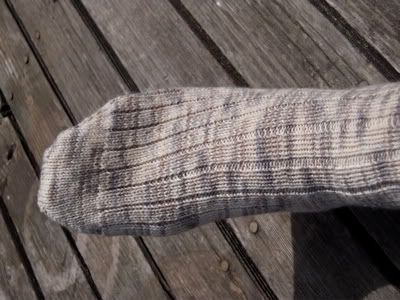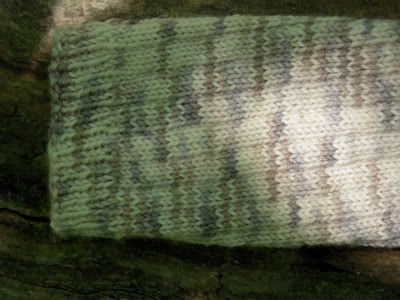 Another finish-itis project, pulled out my crazy hand-dyed sockyarn I did up at
Yarn School
last fall and got one and a half done in the last couple of weeks. It's growing on me. Slipped every 5th stitch every other row. Seems to make the wild coloring look a bit less jarring.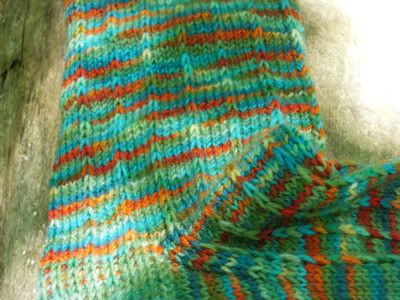 It's so very hard to work on plain old man-socks when I've got fiber vying for my time! It's so hard to resist the call of the fabulous sockyarn......can't you hear it? This stuff is going with me this weekend. This is some of the kool-aid died yarn I did at the SSK retreat in Harveyville. FABULOUS koolaid dying instructions
here.
Ana's a great teacher! I'm going to try really hard to not cast on until I'm at least half-way down the foot on the last of Jeff's first pair.....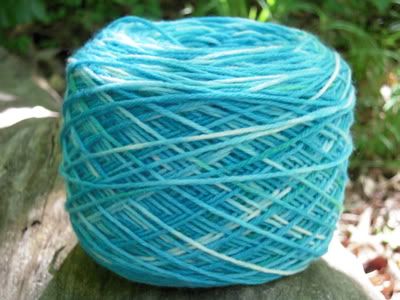 AND, the best part of knitting more socks?????? MORE SOCKYARN BLANKET KNITTING!!!!! WOO HOO! Pattern rav link above on sidebar. If you're not on ravelry, comment w/your email address and I'll send you a pdf. It makes me so happy and is such perfect tv-watching or
driving down the road
or stoplight knitting.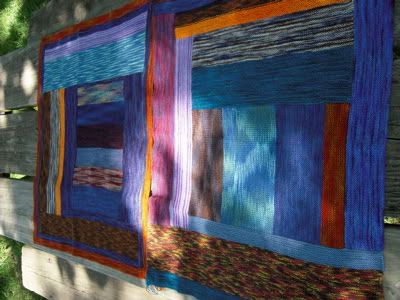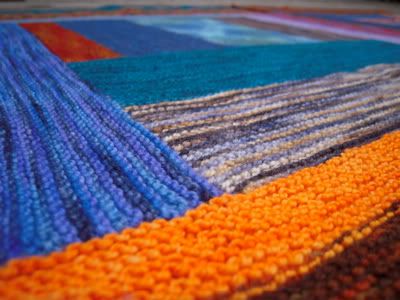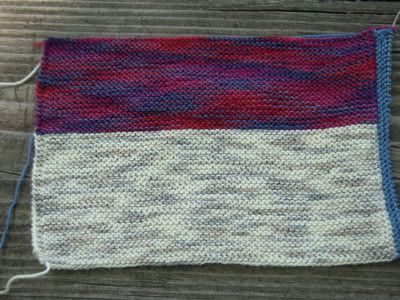 I finished my 2nd rectangle and started the 3rd. Isn't it cute? Does that yarn look familiar? Each rectangle is big enough to be a baby blanket, but I'm going for a BIG afghan for me. This is a memory quilt of all the socks I've made (and some single skeins thrown in that never quite became socks, but were lolling about in the stash.) Go on and make yourself one.