THANK GOD it's finally here! HARVEYVILLE, here we come! The Sunflower Knitters Guild is having its every-other-year retreat there! I can't wait! Not only does Nikol have the coolest yarn school in the nation, fabulous food and fiber and artsy fartsy stuff everywhere, she's also got 3 new baby lambs! Life's sure gotten crazy around here lately, a getaway surrounded by friends, fiber and food? It doesn't get any better than that. Spring Yarn School is coming up soon! Check the Harveyville Project link for details. I'm hoping to go to the Fall 09 Yarn School again, there's so much to learn!!!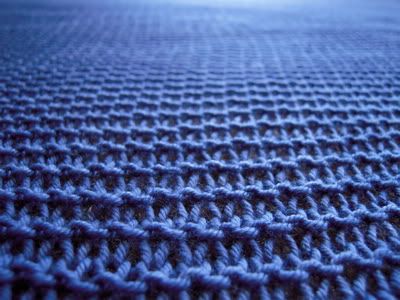 And miles to knit before I sleep, and miles to knit before I sleep.....
Knitted through a poetry reading by about 45 3rd graders the other day. (How do the non-knitters do it?) I video taped my youngest step son for Jeff since he was traveling. I think I heard the
Stopping by Woods on a Snowy Evening
at least 5 times. It got stuck in my head and each night as I worked on a dear friend's prayer shawl, it came back to me in the knit version. I used the basic foulard pattern from the book
Morehouse Farm Merino Knits Farm Fresh
. I used almost 2 skeins of a gorgeous denim semi-solid color of Schaefer yarn's superwash sockyarn Nichole. Didn't have enough yarn to do a nice sideways garter stitch border, so did a quick crochet slip stitch around the edges (with 3 st at each corner) and then did a single crochet with a chain 3 loopy border around and used up almost all the yarn. It blocked out gorgeous. It turned out pretty dang big and lightweight, exactly what I wanted. She can stuff it in a tote bag, shake it out, wrap around her shoulders or use as a blanket then shove it back into a bag when she's done. Breast cancer stinks.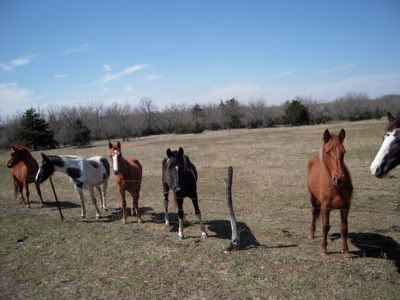 Is it too strange that the blanket was about 90% knit while thinking only kind, healing thoughts and prayers? About 10% was knit while thinking "Dear Lord, protect these stupid children" and/or "husband of mine" during whatever crazy thing they had going on at the time. And the blanket also was along for the ride in a backpack while horseback riding. Not normal horseback riding. Have you MET my husband? We were on his friend's farm, riding through "trails" or as I called them paths to HELL, that hadn't been maintained for a few years. Jeff had Joey behind him, I had Elizabeth behind me and Jeff's friend Travis was on his own horse. We went THROUGH trees (thorny and just regular almost knock-you-off-your-saddle style), underbrush, down short cliffs to water, across water and back up other cliff to solid land, and basically just through crap you have no business trying to get through on or off a damn horse. I'm afraid that blanket had a few curses, screams and prayers sent through it as well. I expect this will enable my friend to pass through her ordeal with strength, peace, love and the ability to not fall of any DAD BLAMED FRICKING FRACKING FREAKING HORSES! It's actually quite a challenge to curse in a child-friendly manner when I feel my life is in danger. It's a skill. I gots it.
Meet the new bull. He's so friendly he occasionally thinks he's a lapdog and will try to nuzzle you right off the back of the truck if you're not careful. Glad he's a lover, not a fighter. We're hoping his loving nature will help make many more cow farm babies to grow the herd.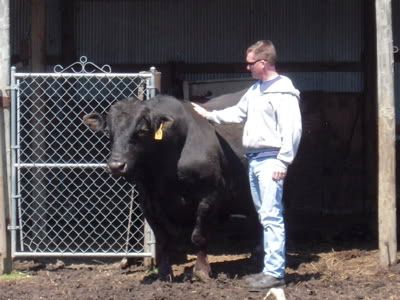 Here's the "Rock Shack". Built by Jeff's friend over the years on his farm. Jeff and his boys like to go sleep in it. With mice that sometimes climb up and nibble on your hair. And the ticks rain down like tick rain. Yeah. Somehow, after the ride we'd had that morning, I was not quite up to the whole idea of things. I admired it from afar and decided that the only way I'm staying overnight there is with a CRAPLOAD of bugspray and a tent with zippers and such. Damn, I miss our pop-up camper. Though there's a roof, the whole thing is open to the elements. It's more of an admire-from-afar kind of place for me.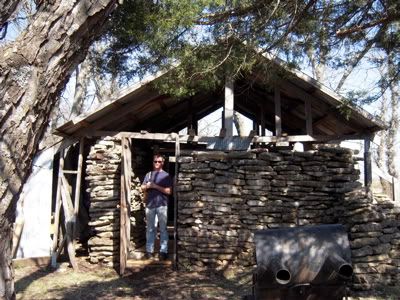 So, I survived in the country for almost an entire day last Saturday. With my children. And nature-boy. I bugsprayed, sunscreened, water-bottled and the like. I didn't complain, whine or hardly curse. The only times I truly screamed where when we were airborne on the back of the horse. I was almost like a real, live country girl! I thought to myself, I can DO this! I will be ok when we go country in a few years. I can totally DO THIS!
Nope. No rockstar country girl. That evening at home again I pulled EIGHT FREAKING TICKS out of my body. Kids didn't have any and Nature Boy had 1. I had EIGHT. 1-2-3-4-5-6-7-8!!!!! I swear I would rather be facing 28 snakes than 8 fuxxing ticks. Does anyone remember the day my freckles were moving? The first big tick attack freak-out with the thousands of seed ticks? Man, I'm still trying to get over that one. After doing more research than I care to admit, it turns out that certain people have a particular scent or taste that makes them more likely to get tick bit than others. Sweet. I've heard all kinds of ways you're supposed to extract the ticks. When I'm in full freak-out mode, it's more like I'll grab a tweeers and pull it out. GET-IT-OUT-GET-IT-OUT-GET-IT-OUT! I guess that wasn't the best policy as then I had eight red itchy bumps from the tick HEADS that were still in my body. One of the guys I work with said the head often keeps burrowing. WHAT???? Why would you tell me that? Seriously? I guess the look of horror was such the one other woman in the office went running for her clear fingernail polish and I took it to the bathroom and started painting my arms, legs, belly and chest with it. (The polish is now mine). I'm sure it's an old wives tail, but still, the thought of a head of a critter chewing inside me made me feel like Frodo with the shard of the poisoned knife working its way to his heart. Except I'm sure I was a bit more upset than Frodo.
Would you do me a favor? Would you ask all the nature-boy and nature-girl types you know for any clues as to what to eat, drink or spray on me to help me make it tick-free in the country? This wasn't even tick season yet and they were chawing down on me. There's no way I'm going to handle actual spring/summer weather out there without having a total come-apart. I've heard a shot of vinegar daily helps, and smoking is supposed to help. I'm not really excited about either of those options, so would LOVE any kind of back-woods advice you hear of. I heard skin-so-soft from Avon used to work but they changed the formula so it's not as potent. I'd forgotten about this and will get some to see if it helps.
I'm gonna knit and spin and relax in a tick-free, child-free, husband-free environment all weekend long. What will I do with myself?
OH! And I'm blond now. I wanted to do something different for turning 40 and I couldn't decide on what tattoo to get, plus I'm a wimp. It's now faded from va-va-va-voom to a nice strawberry-ish thing and not quite so blatant.