I've got no pretty knitting pictures. I suck. I also have knit and frogged and knit again so much knitting since I last posted. Again, I suck.

Anyway, The Yarn Harlot is coming to KC and I get to go! WOO HOO! I missed her Wichita, KS appearance a while back and great shopping and pizza and roadtripping with knitters. Man, it doesn't get any better than that. OK, if there were beer, then THAT would be the ultimate day. (Not while on the road trip, I may knit while I drive, but I don't drink while driving.)

Call Rainy Day Books at 913-384-3126. You get a book and two tickets for $16.99 or something like that. Quite a deal. Yarn Harlot will be speaking at the Unity Temple in KC, MO on Monday, Oct 13th at 7pm. And I'm gonna be there. How cool is that? Unbelievably.

OK, the beautiful yellow silky wool ribbed sweater? The one I knit and knit and frogged and frogged and knit more, then frogged more then knit away yet again? After completing the body and one sleeve I tried it on. Yes, I actually DID try this on in progress a few times. It fit. It fit perfectly. I got gauge. It was just the way it was supposed to be, but I forgot the cardinal sin of the sweater knitter. Pick out a sytle that actually looks good on you. I forgot what I looked like. I somehow saw myself as the cute models in the picture, not as the flat chested, slightly hippy woman that I am. I'm happy with how I look, I look fabulous in many styles of sweaters. This was not one of them. It was so horrid that I couldn't even take a picture. I took it off, set up my "yarn baller" as my husband calls it, and immediately turned it back into yarn.

The only thing I could think as I stood there looking in the mirror at this perfectly lovely sweater that looked perfectly horrid on me was "Bee Barf." It looked like 28,361 bees barfed up pollen bits all over me. But mostly in a drawing-the-eye-to-the-widest-part-of-the-hips way of pollen barfing. Horrid. Knitted Bee Barf.

What else? Oh I made the migraine blanket bigger and it's already getting lots of use from various children. How do they pick the funkiest, wildest blankets out of all that we have in the house? Ah well. It makes me happy that a bunch of scraps turned into something warm and used.

Also knit half a hat, frogged it and knit again on larger needles making adjustments as I go now and it's making up a lovely hat now. I am using a kit bought from Maggie's Farm I got at the Knitting in the Heartland vendor market last spring. It's called "Barn chore hat" or something like that. Pretty yarn, but the hand spun natural and the colored part were such different gauges that I needed to frog back and change stitch numbers. It's working up well now and has the softest alpaca knit up to fold under for a lining for the ears. It's supposed to be for Jeff, but I have a feeling I'll be wearing this one a lot this winter. Goal to self: WEAR HATS this winter. A knitter should wear hats. Even if she/he looks stupid in them. Guy knitters are so lucky. They always look good in knit hats.

I've also cast on for Elizabeth Zimmerman's Longies, from the September month of Knitters Alamanac, my favorite book of all time. I should be doing this two at one time on circs, that would make so much more sense and ensure that both legs actually match, but I just can't seem to do it that way. It irks me. I don't know why. I'm working away on two sets of dpns a little at a time back and forth. Cascade 220 in grey, or what I've knit half my wardrobe out of. So far, so good. That woman was a genius.

OH OH OH and the coundown to YARN SCHOOL has begun. TWO DAYS baby and I'm hitting the road. THURSDAY after work I'm heading to Harveyville, KS to Yarn School, where I get to learn to spin, SHOP for fiber and yarn, dye fiber and yarn, eat yummy healthy food and hang out with other yarnies just as crazy as I am! Nothing makes for a better day than hanging out with others just as fiber crazy as you are! I've been packed for a week now. Just keep changing what yarn I'm bringing along.

I promise to take lots of pics and try to remember what I learn. There's still a few last minute spots open, click away and come with me! I'd even drive (but I may or may not knit on the long, straight non-traffic filled highways, so take your chances.)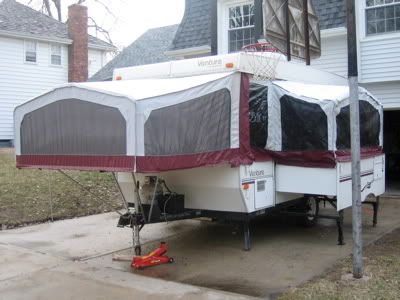 And the last bit of family news is that the beautiful camper is gone. My valentine's day present camper. The camper that had a TOILET in it plus screened windows, kitchen and slide out area so you could actually hang out indoors while in the outdoors? My way to handle the family camping trips? Yeah. We sold it. Damn. Damn, Damn, Damn. We were offered three times what we paid for it. And found a wonderful speed boat. A good boat, great shape, big hull which means nice traveling instead of beating us to a pulp like the speed boat we borrowed last summer. An open front, so the kids can all hang out all over the thing. Our family will get much use from it and we'll all enjoy it but it still sucks. Now when we go camping I'm back to bug level with no toilet. Freaking bugs. I should just cover myself in honey to better draw them to me to eat me. Anyway, I'm being a good mother, so we'll have much more days like this.....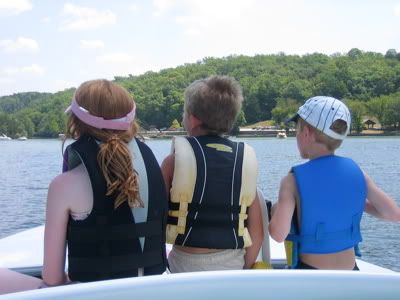 Ah well, what do I care? I'm going to YARN SCHOOL!!!!!!!!