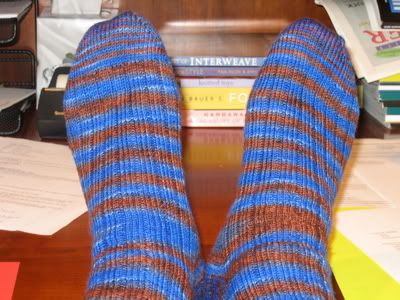 OH how I missed you! That sock, the one on the right? With the extra thick brown stripes? He's come home to me! I have to admit that you really DO love the one that left even more than the one that was trusty, loyal and stayed in the sock drawer where he belonged. See those thick brown lines? I always liked the other one better as I thought those looked a bit like poo.
ANYWAY, last Friday was a nice cool, almost cold day. I broke out the wool socks. YEAH! Thought my wollemeise sockenwolle would be just the thing for the first wearing of the season. As we had a busy evening of lots of places to go, I also was lugging the big ass Migraine Blanket around in a tote bag. I had picked up another skein of Schaefer Elaine yarn at Knit Wit's a while back and thought I'd like to make the blanket big enough to actually USE. As we walked around an outdoor carnival, the sun came out. It got a bit warm. I'd have been ok, except the wool socks on my feet were bringing my heat level up to 10 degrees below bursting right into flames. Actual flames. That's why I knit so many alpaca and wool sleeveless sweaters. My body can't take the whole wool immersion thing unless it's seriously cold. Apparently 65 degrees isn't cold enough. Socks went into the bottom of the tote bag.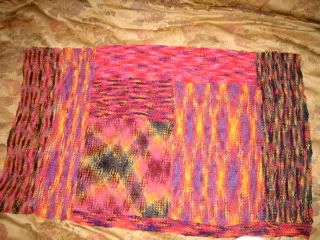 Through the night I yanked and stuffed that big ass blanket in and out of the tote bag. Yes, you guessed it, the next morning when I got home, only one pretty wollmeise sock was in the bottom of the bag. OH the horror. I don't mind losing a regular sock, but this one was knit on my honeymoon on a sailboat in the Sea of the Bahamas. It was WOLLMEISE for God's sake. Why couldn't I have lost an opal sock? Or a Lorna's Laces one? (not that I don't love both of those yarns, but seriously? WOLLMEISE?) Damn.
Well, let me just say that people look at you really REALLY strangely when you show up asking if their lost and found happens to have a sock that looks almost exactly like THIS ONE RIGHT HERE but with thicker brown stripes. Yes, next time I will absolutely use the phone. The school where my youngest step son goes is a bit, um, stuck up and pretentious and rich. And they just don't appreciate the gravity of good wool socks being lost out on their soccer field. But then, apparently neither do gas station attendants and snotty high school girls that work at volleyball arenas.
Jeff came back from getting his van detailed yesterday and Guess What!?! My little lost sock was stuck way up underneath one of the seats! YEAH! Now the happy pair are right where they belong. All is right with the world. Or at least with my sock drawer.