I apologize for the lame picture of the sweater parts below, dark blue doesn't take well with my cruddy old digital camera. This will probably be the last sweater I ever make in pieces. I really like the whole cast off, sew in a few ends, and be DONE with it joy of finishing an in-the-round sweater. Do you know how many seams I've got to sew? A buttload. Wish me luck.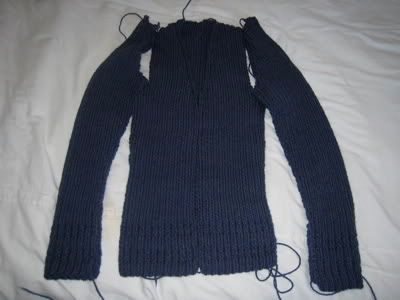 Oh, I also got about 5-6 inches chopped off my hair. So far I'm loving it. I feel like I look more like a normal woman instead of the biker-chic frizzed out nappy looking thing I usually resemble at the end of each day. This flippy, shorter version holds up to my life much better.
Hope the easter bunny brings yarn for you all! I know he will for me as I helped him shop. I'm guessing Jeff will get beef jerky, but am not quite sure yet. We'd better get our baskets out and ready. Cadbury eggs make me as happy as wollmeise yarn. Mmmmmmmmmmmmmmmm, I don't honestly know which I'd rather have.