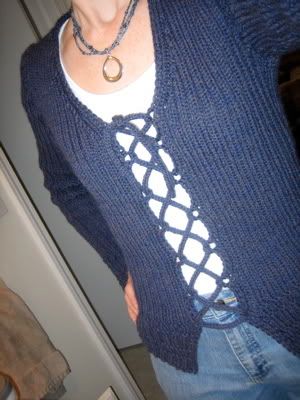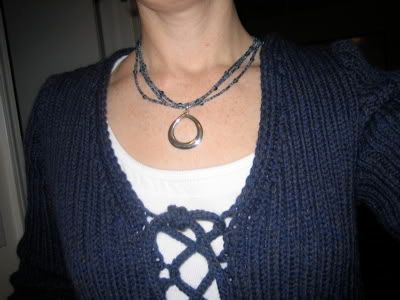 OH how this sweater amazes me. I amaze me. It amazes me that a couple of pointy sticks and a bunch of string, anyone can make something as happy as this. Knitting is freaking miraculous. TWO STITCHES. A simple knit stitch. A simple purl stitch. Sometimes I forget just how magical the whole thing is. Then a moment comes along and I just sigh. And then dance around the house with a sweater or a sock or just a little square of something. And totally freak out my children. God, being a knitting mom is awesome. A normal mom can just embarrass them the normal ways. We have SO MUCH MORE AMMUNITION. bwaa haa ha haaaa. But I digress, did I say how amazing this sweater is to me?
You know what? The whole seaming thing wasn't that bad. SSSShhhhhhh.
I actually enjoyed that part
. The whole set-in sleeve thing? not so much. But, I totally flashed back to my sewing days in jr. high home-ec where apparently my dislike for sleeves began. Flashed back to a VIBRANTLY colored cotton fitted dress with a full circle skirt, fitted bodice and SLEEVES FROM HELL that somehow became a SLEEVELESS dress. Imagine that. I'd totally forgotten until I was easing in the stupid sleeves into their stupid holes on this sweater. The sleeve hatred must have started when I was 13 years old.
SO, what did your children do on spring break? A cruise? Skiing? Rock Climbing? Mine were lucky enough to get a shovel and a hose. This is the three day "pond" experiment. A mom that dances around the house with her knitting, singing at the top of her lungs AND a hole in the ground? MAN don't you wish you could be my kids too? I'd better record these moments so when their therapists blame me for their issues in their mid-forties I can remind them of just how great it really was.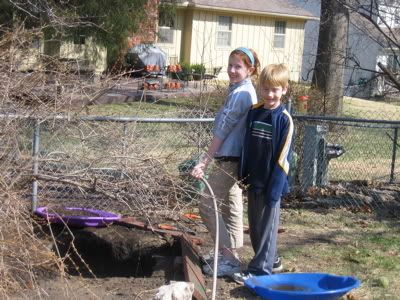 Sweater Details:
Pattern: Laced-Front Sweater in Lingerie Knits book by Joan McGowan Michael
Yarn: Cascade 220 Heathers (OH how I love Cascade 220, yeah, I sing about that, too)
Needles: sz 6 circs
Icord: sz 6 Three Stitch i-cord 60 inches
Worked exactly to pattern specs, only complaint was that the ribbing pattern didn't match up just right at the side seams.