It's a strange Christmas season this year for me. I'm not holiday knitting. Seriously. Ok, so I had to do ONE project, it was making me looney. I knit up an adorable shrug from Stephanie Japel's book, Fitted Knits for my cousin. She kept talking about how much she liked mine, so this summer I asked her do you like it like it? or do you like it like you WANT ONE like it? I made hers washable in some beautiful dream in color teal yarn from MisKnits. It took exactly two skeins to make one of the larger medium sizes. I love it even more than mine. It's hard for me to knit for others because I want it all! Ah well. I hope she likes it.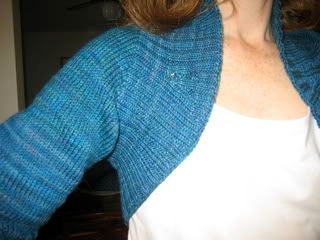 I keep waking up in the middle of the night with heart pounding, feeling like I've forgotten something important. I'll catch myself driving down the road and just SITTING at a red light without any yarn and needles in my hands. Don't freak people, I put down the knitting when I drive, during Christmas crunch time any few moments spent not knitting are just wasted time. Catching up on some reading during quality time on the john? That's a luxury not allowed during Christmas crunch time. Hell, sleeping is low on the priority list during the crazies.
I am absolutely a mess this year since I'm not making myself freak out with the deadlines and pressures and crippled hands. I feel like I'm missing something. Getting sleep, wrapping normal presents DAYS before Christmas? Who is this woman? I'm usually knitting and crafting right up until unwrapping begins. My family's Christmas is on the 30th and I keep catching myself thinking, hey, I could knit four more hats and two pair of socks by then, no problem. I have to walk away from the pattern books, back slowly away.
I finally figured I couldn't take it any longer. I cast on with some local Kansas Alpaca I picked up last spring and am working on a hat. The holiday non-startitis was KILLING me! I feel less lost this way. I'm not sure who the hat will be for. Probably me. Do you know I've not got a hat of my own yet? My pretty blue alpaca one I made has been claimed by my daughter Elizabeth who wears it to school almost daily. It shows off her blue eyes so well and makes my heart happy to see her wear it.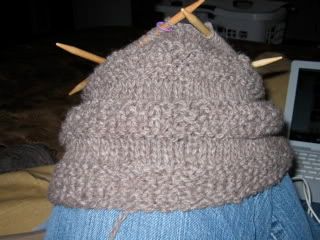 BIG ASS YARN SALE ALERT!!!!!!
Jan, the owner of Knit Wit in Olathe, KS is having her day after Christmas sale on the 26th. It starts at 9:00am and as she puts it, "Every inch of yarn in the shop is 30% off." She's also got some seriously amazing closeouts that are 60% off as well. Boy, if it wasn't Christmas season, I'd not post this here. A little part of me thinks I should keep my big fat typing fingers quiet and save all that yarn for ME ME ME ME ME! But, since I can't buy it all, I'll share. Just don't get offended if I knock you on your butt trying to get to the sock yarn! She's also got massive amounts of cascade 220, which I plan on getting for a few more sweaters.
SO, what do you do when you're the only woman in a house full of boys and men (Elizabeth is in NM with her dad for Christmas)? What's that? What's the big deal? I started smelling a little bit of gas and walked down to see what was going on. They'd brought in the old go cart that Jeff's restoring with the kids. To CHANGE THE OIL and work on it. ON THE CARPET. IN THE HOUSE. In front of the large fireplace insert with a full fire going. IN THE HOUSE! I went down, stood there with I'm sure a puzzled WTF look on my face and Jeff said, "oh, honey. You're here. Good. We need to borrow one of your pans for the oil." nice. I find my life is less stressed all together when I just smile, nod and not try to even explain how freaking strange the idea of this is. See, it's COLD out in the garage. huh. ok. I just gave them a plastic tub, asked NOT to have it back and went back upstairs to my knitting. Welcome to my world.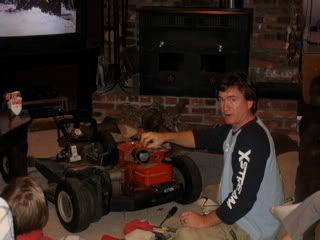 Merry Christmas everyone! May all your projects be finished in time for you to get a few moments of sleep!