Apparently, my daughter had this dream that she was trying on clothes all night long. Weird, huh? The fact that the child sleeps in a super-freaky high bunk bed and her mother would have had to clamber up on her tip-toes with one foot on a stool and one on the top back of a chair while leaning precariously over the edge of the bed and stuff the kids' arms into unyielding armholes held on cords from the denise interchangeables and one of the damn button ends popped off, so when the child finally got the sweater pulled off of her she had to be wiggled all around until the missing button thing was found so she wouldn't accidentally choke on it in her sleep..... yup, weird dream. Seriously, what kind of a mom would do that?

See what happens when you make a top-down raglan and don't have a spare 11 year old girl to try on the sweater so you can determine when to stop the decreases and make sleeves? It was either that or pay a neighborhood child to try on the thing and keep her mouth shut. I'm thinking that could end you up in jail, so that was a no-go. Knitting isn't pretty, people.

I'm making the Anthropologie inspired capelet out of Lamb's Pride bulky on sz 11's in a dark blue for Elizabeth. I'm adding long sleeves and was going to do a cable down them or use long ribbing, but she's been talking about wanting belled sleeves, so am not quite sure how to handle that one. We'll see when I get there. I'm hoping to put it under the tree along with her main present. Joey's wallaby sweater is all done and ready for wrapping as well.

Other misc. knitting going on around here is yet another pair of mountain colors barefoot socks for Jeff (if they fit since I forgot and used 1.5's instead of the 2's, otherwise they'll be for me). I ran out of yarn on the start of the 2nd toe. YES top down-people, I know that could be avoided, but where's the thrill? Being a knitter who has an absolute buttload of yarn more than she decently needs, I went digging and found another colorway that blends in so well you couldn't tell unless you REALLY looked close, and I think you might not even know then. I love a challenge. Can you guess which one was the patched up one with the different yarn?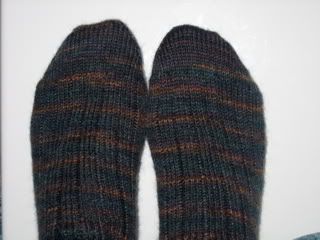 I started two pair of birthday socks, one of smooooooshy from Teri and one from Jo Major in Claudia Handpaints. Yes, both for me as well.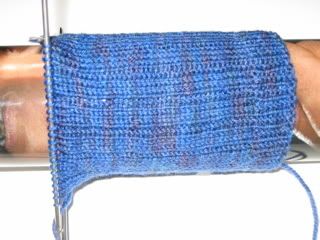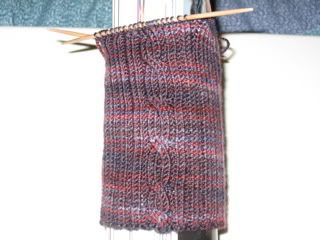 I knit most of one fetching on the way home from the Lake of the Ozarks on Sunday. I am using up some leftover cascade 220 from Joey's sweater for a pair. I think I'll make another one with the same yarn and smaller needles for Elizabeth. They're unbelievably cute. Fetchingly, actually.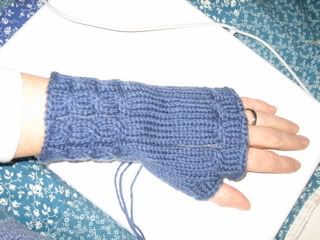 While at the Lake, Jeff got to play with big boy toys as he'd rented a big old machine with a 7 foot scoop thing to dig out the hill that was advancing on the lakehouse. I took the kids to my folks' lake house about 20 minutes away and spent the day indoors with heat and television and yummy goodies left over from the Thanksgiving meals. When I went over to see him the next day, I saw Jeff was working in a pair of my wool socks and wearing his boyfriend sweater! Action shots of the sweater below. Since I wasn't the one taking the pictures (his stepmom snapped these for me) the sweater wasn't the focal point of the picture. The older guy with Jeff is his Dad. It was a good weekend at the lake. I got to knit, he got to play, kids ran around with my folks, good times.