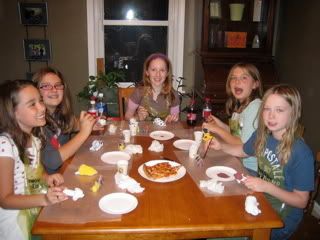 My birthday girl is at the end of the table. The girls were painting bobble head dogs and singing along to music on the boom box.
The weekend started Friday afternoon with an after-school skating party where BOTH of my children are no longer wall-grabbers. They are skating in the middle with the rest of the kids. Joey's even developed a unique "this is my too-cool-for-dance-tunes" expression he uses as he dances/skates around the floor. I think it makes him look contstipated, but who am I to say? Constipated could be cool. Jeff took me out on the town to the Capitol Grille where I ate a BIG ol steak and tater and we just had a great time. My cousin watched the kids, so we had the whole house to ourselves. Very nice. He then
ran away
drove to the farm to work on cattle instead of hanging out for the slumber party. Joey spent the night doing manly things with my brother, so it was just us girls and the dog.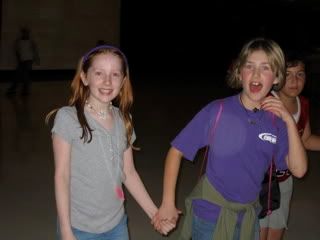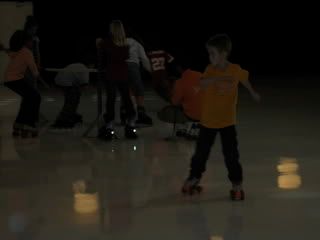 Thank god for Knitters and friends. And even better is FRIENDS WHO KNIT!!
Teri
offered to come by to help out with my daughter's sleepover party so I wouldn't be outnumbered. Then a few more friends said they could come too. Before you knew it, we had a full scale double party going on. My daugher turned 11 and had a blast. I turned 39 and also had a blast. Let me tell you, though, 4am comes a lot HARDER on this old body than it used to. We ate, watched movies, ate, knit, ate and then they GAVE ME YARN GOODNESS and even wound up a buttload of yarn from the stash for me to boot. THANKS guys! I got Smooooooshy sock yarn from
Teri
in a beautiful blue, some Tofutsies in pretty purpley teal and very cool "yarn snob and proud of it!" stitch markers from Zephyr knit from
Jo Minor
, some Claudia hand painted sockyarn in Argyle Socks colorway from
Jo Major
, and a beautiful sock bag/small project knitting bag and set of stitch markers from
Carmen
.
Aunt Carmen
even brought a Hello Kitty bag full of HK stuff for Elizabeth and some cute puzzles for Joey so he didn't feel left out.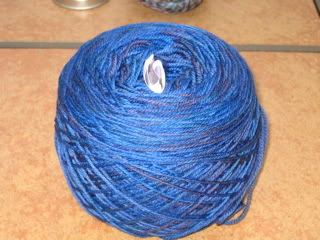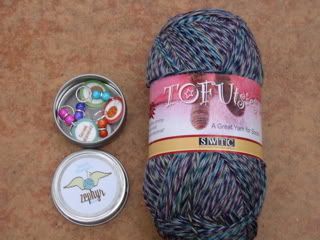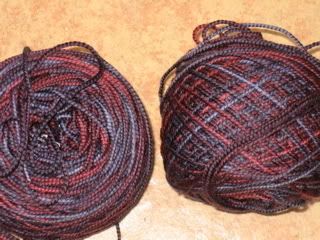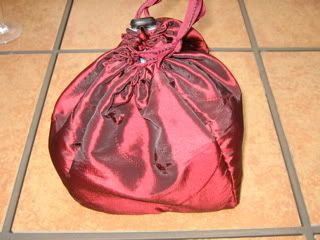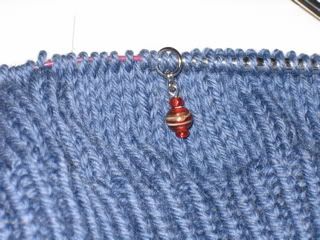 All the girls were very well behaved except one. Let's just say that after dealing with her most of the night, when I was woken up at 6am (after going to bed about 4:30am) I wasn't too keen on her. Here's a hint...if your kid's sleepover bag is not just on the front step outside, but at the end of the driveway outdoors and your kid is outside also, your kid is probably not going to be sleeping over at my house any time soon. I did at least have the girls all playing outdoors for the last 30 minutes waiting for that mom. I'm not totally heartless. But whooooooooo I'm pretty damn heartless on one and a half hours of sleep.
I'll leave you with something that made me very happy. Remember the ruffled shrug I made for my daughter last year? She wore it once because I asked her to and then it disappeared into her closet. She pulled it out the other day and wore it to school every day for a week. Here she is bringing cookies to school last Friday for her birthday WEARING MY SHRUG I knitted. I love that!