Monday at camp sucked. sucked hard. Let's just say rain, rain, rain, tiny bit of sunshine that baked the 100% humidity for a little while then torrential rain and wind. more rain. Oh and 26 boys in our troop where everyone else had 6-12. Also two schools joined together and the boys in one school were a titch more rambunctious than the other. I got punched in the side of the throat by an 8 year old the size of a 15 year old. His mom was there. He said he was "trying to tickle" me. His mom said, "oh those boys!" I thought I did well in not saying what I thought of her child and I also didn't pick the child up by the throat. Because boy scout moms are not supposed to do that I'm guessing. I had a good raincoat, so the only part of me that was really wet and miserable was my feet. They were squishy from 9am till I got home at 4:30pm. Let's also explain how much fun I had because I FORGOT MY FREAKING SOCK PROJECT. Sitting on the bus waiting to leave at 7:30am with no knitting. Riding for 20 minutes with no knitting. SItting under the shelter at lunchtime for an extra 45 minutes in the downpour with no knitting. Getting onto the bus early also in torrential rain and sitting there for 40 minutes before we left with no knitting. 20 minute ride home with no knitting. Combine the whole no knitting thing with squishy feet and psycho children (and some very nice and cute boys as well) made for one pissy ass momma.

Tuesday was much MUCH better. No rain, KNITTING and early in the morning I put the fear of ME in the few boys that I was trying hard not to pummel with my highly honed mom looks and one boy I even said if he didn't quit kicking and running away from the group and punching boys I was going to make him walk all over the camp holding my hand everywhere we went and I'd have one of the other moms kiss him. The rest of the day was smooth as silk. The moral of the story? Well if your kid is a pain in the ass, don't send him to camp with me. Joey and his friends had a ball. They shot bb guns, slingshots, did crafts, played games, went for hikes and just had a blast. I have to say my favorite part of Tuesday was ARMPIT FUDGE. mmmmmmmmm For those with kids that like to go camping, this is a must make! In a sandwich baggie you put 2 tablespoons of cream cheese, three little pats of butter, 1/4 cup of powdered sugar, I think it was 2 table spoons of cocoa and a splash of vanilla. Smoosh the air out, seal well and wrap up and squish together to mix. In order to properly mix it all up, you've got to melt it down a bit. You stick the baggie in your armpit. Open the top and eat with a spoon and it's HEAVEN. Armpit fudge. It's a good thing.


What was I working on so dilligently at camp? I had my trusty mountain colors barefoot socks for Jeff. Now I've only made the boy worsted or dk weight socks on larger needles. I'd never made him a pair of the sz 1 beauties I make for myself. I didn't measure his foot, nope. I'm a sock knitter. I know how to do these things. I just cast on and went. I also didn't make them toe up so he could try them on. Nope. I was lazy, already had this yarn wound into a pretty cake, I just went to town. Did I have him try them on mid-way? nope. I was cocky. The knitting goddesses sure do like to bite cocky knitters in the ass, don't they? You think I'd have learned, wouldn't you? Well, I had him try one on after it had been bound off, kirchenered and ends woven in. I'd also started the heel flap on the 2nd sock. It looks like I now have an almost completed really dark and manly pair of socks for myself. cripes. They're actually much more dark grey/black with a little bit of dark red here & there than the pic shows. They're comfy. I've got one more ball of barefoot and I thnk I'll be winding that sucker into two balls and MEASURING his damn foot.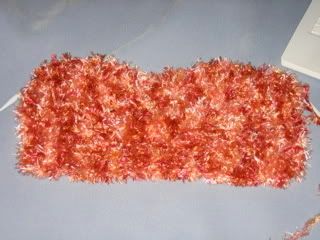 And the thing that looks like a dead orange animal laying on my bed? That splash stuff is kicking my ass. Why is it beginner knitters gravitate to that stuff? I think it's hard as hell to knit with. I was trying a drop stitch thing, but it's not working out. It's gonna have to be frogged and started over but after a few days' break. It is soft and looks better in person, but it still looks like a dead orange thing. I'm going to find a cute pattern for this wrap one way or another.