YES! I found the freaking power cord! (and there was much rejoicing...yeah...yeah...yeah) Monty Python Holy Grail quote, I am that big of a dork. Well, the power cord was still plugged in to the wall in the corner of the office crammed under the big bookshelf full of knitting books and magazines, etc. I totally forgot I was working on the floor last week or so when I last caught up on reading blogs. cripes. Then the camera's cord mysteriously appeared AFTER I went out and dropped $30 at best buy to get some card reader thing since it was cheaper than buying a new camera cord. Man, I'm worse than a little kid. I have ONE DRAWER that my car keys have to immediately get placed in. If they don't go in there, they are GONE. I was working off Jeff's spare set of keys that I wasn't supposed to know about for 2 weeks last time I lost my keys. I now have a drawer for power cords of all sorts. Ok, so it's half of my bra drawer. It works. The good thing is that I'm BACK!!! LOTS of blogs to read and catch up on now.

I promise to post something interesting later, for now I'm just happy to get back to posting! WOO HOO! Here's what I've been working on lately...Completed my two-toned ribbed shrug from the Fitted Knits book. I've already worn this thing 15 times and LOVE IT! Next are two hats made from stash yarn Lorna's Laces Shepherd's Worsted Superwash wool. Joey chose the one modeled by me for his new winter hat (made from Chicknits free hat pattern, the one with the folded brim actually fits me too, but as you can see, I have yet to find a hat that I look good in, so with the super stretchiness of ribbing, will work folded up for my nephew, a toddler. Colors are army-ish looking and look cute on little boys, but Joey's not around for modeling, so you get stuck with my head. He wants gloves made with the remaining yarn, so I'll give them a try. In the 4-item pic are some unbelievably beautiful hand dyed fingering/lace/? weight cotton that followed me home from Cottage Fibers on our knitterly weekend. I don't have any freaking idea what I'll do with it, I just had to have it. AND it was on sale. No idea of yardage, but 4.1 oz for 30% off of $20, can you blame me? It had to be mine. The red tube is a diet coke cozy for my best friend Jildo to check out. I'm using cascade fixation (the stuff with elastic in it) and using the pattern from Knitting with Balls. The dark thing is a freshly turned heel and leg of the first sock of mountain colors bearfoot that is still slowly progressing. The orange is what I cast on to take to the stitch n pitch game this weekend. LOVING IT! Lucy Neatby yarn in vibrant orange and pattern is Hedera. I realized I am, in fact, an idiot. I kept thinking I had the pattern memorized but not quite getting there. So, let's just say this leg will have some wonky lace. I am an anal knitter, but I draw the line at frogging lace socks. Not gonna do it.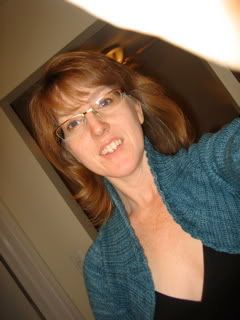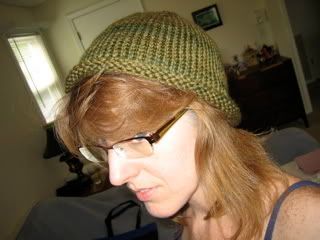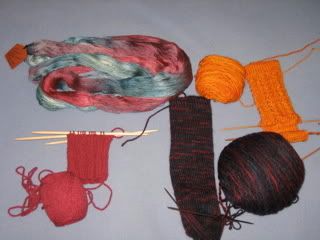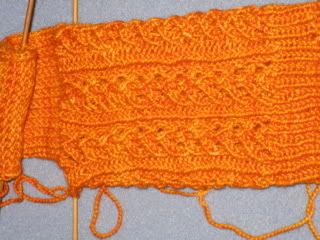 OH I had the best knitterly weekend! For the official KIP day, my girls went from 8:30am till probably around 8:30pm. I missed out on the whole getting-lost-almost-getting-carsick fun, KnitWits, the farmer's market (my kids and I did a run-by and fast checkout of the art vendors and told my kids "look for knitters!" but we didn't quite hook up with the girls. I dropped the kids off with my cousin and was kid-free for the rest of the afternoon. I ate really good greek food at the festival, got some knitting and chatting of knitting and gossip in, took the world's longest short-cut across the city to Cottage Fibers and then headed for home. The rest of the gang finished out the day with dinner at the Blue Koi. I finished my day sitting a few seats in front of Jeff's ex-wife facing into the setting sun trying to work on my hederas while sitting through a two hour baseball game.
Sunday I went to the Royals Stitch N Pitch game with my knitterly girls again. HOT HOT HOT and sweaty woooooooo boy. But let me tell you, it was a great game! The Royals won 17 to 5. For those of you non-basebally or non-KC, the Royals really REALLY suck lately so it was quite a feat. The tote bags rocked. I love them. The stuff inside, not so much. I'm not complaining, it's just that hearing about the awesome yarn and needles and accessories knitters got in different parts of the country compared with what we got... ah well. The bags are cool and the day was fun! I'm thinking we need to have knitting be a major part of more weekends around here.
Kids are surviving "camp mom" and I guess this mom is too. I'm trying to work in the am and have succeeded in getting my kids all excited about the reading challenge at the library. Then we either go to the pool or somewhere else on a field trip, farmer's market, bowling, hiking, whatever I can find.
Here's a view of Turdy. Yes, TURDY. I asked Beth why she named her little friend after poo and she didn't even realize that Turty sounded like TURDy. He came to visit our neighbor yesterday and the kids (after a few tears) accepted that it wouldn't be fair to make Turdy live in a box when he could be outdoors with his little turtle mommy and turtle daddy and turtle brothers and sisters we carried him down to the creek. Am I evil or what? Poor kids. I'm sorry, but we just got rid of a PET CRAWFISH that stunk higher than heaven. I'm drawing the line at having ONE DOG as the pet population from here out.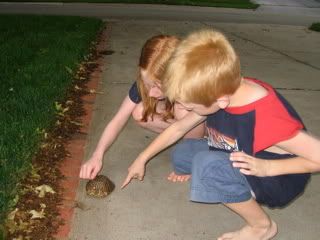 Also Summer
Knitty
is out. I'm gonna go check it out and see if there's anything I can't live without. OH YEAH, you know I've got to make the
backless tank top
, and how cute is that skirt on the cover? I think it has my daughter's name all over it.