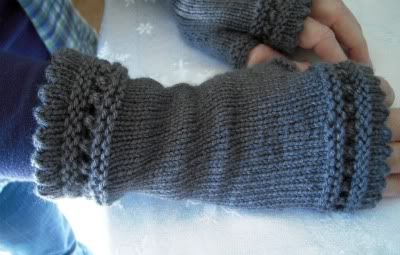 A few years back, I made about 18 pairs of wrist warmers for teacher gifts, mom's present, nurses gifts, etc. It about made me insane because OF COURSE I didn't start before December. Why would I? When have I EVER planned ahead?
This year I'm doing things a bit more sane. I actually knit this gray pair for ME and wanted mom to try them on to see if she'd like these a bit more than those shown below, the basic model of 3X1 ribbing with a thumb hole. Mom had pretty much worn her pair thin and needed a new pair. I've got a pair of the good old ribbed version ready in a pretty deep burgandy red (no photo yet) but she loved that gray pair so much that I had to send them with her.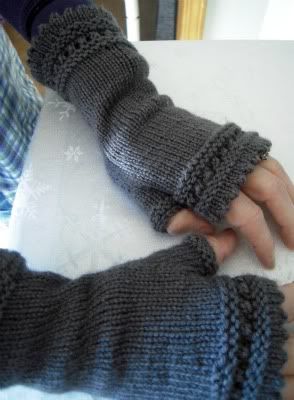 I can't recommend this free pattern by Janelle Masters enough!
Susie's Reading Mitts
, a fabulous SUPER SPEEDY knit that was quite enjoyable also! I knit one mitt in one day and used one ball of Rowan RYC Cashsoft for each mitt with size 5 dpns. If you're looking for a quick knit for someone you forgot to add to your Chrismtas list, this could be just the pattern for you. I'll be knitting myself a pair but probably after Christmas...or I'll procrastinate the important knitting and make myself a pair NOW!
My crank-em-out ribbed version came from the book
Last Minute Knitted Gifts
but I changed the ribbing to doing 8 rounds of 1X1 rib at top & bottom, then knitting 3x1 rib in the body. Stretchy, fun and easy peasy.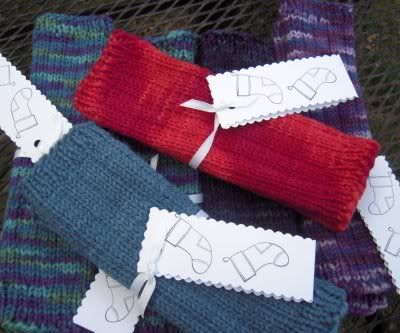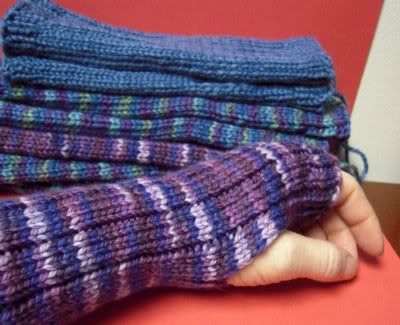 I'm also going to start a sweater for my husband sometime this week, worsted weight yarn (cascade 220), raglan style in the round, have to learn some kind of intarsia in the round as he wants a point coming down on the front and the sleeves in one color and the rest in another.... and I may or may not have it done for Christmas. I'm not going to stress about it, just if it happens to get done, awesome. Right? yeah, right. I'm going to knit my freaking fingers off and stress and all the rest. Ah well. I think I need to quit asking people's opinions about what they'd like me to knit for them and just knit what I WANT TO so I'd have a pattern to follow...BUT I'll be having a little more knitting time as I'm headed to VEGAS BABY!! Jeff won the President's Club Award for sales in his company, so we're headed to the land of glitter on the company dollar! YAY! I think I'll pack some glittery yarn to get in the spirit. :)
Good luck to all my holiday knitting friends. Remember that sleep is important. It's totally fine to wrap a skein of yarn and a note saying what that yarn will become if the item isn't done by C Day. I've done it before. Heck, the man that I love ended up getting ONE SOCK for our first Valentine's Day and he MARRIED ME! How bout that? That must be the antidote to the boyfriend-sweater-curse!