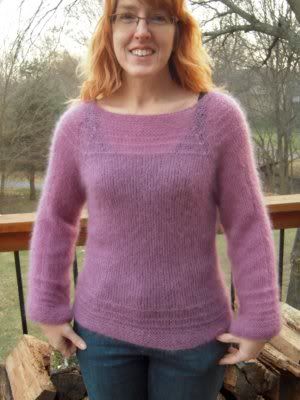 The
Serenity
mohair sweater is COMPLETED!
Details: Pattern by Sarah Famer (purchased for $5 on ravelry)
Yarn: Kidsilk Haze in a lovely lavender bought for almost nothing at the guild's swap & shop from my dear friend
Chelle!
Sleeves: 3, because I'm an idiot. But a GENIUS idiot. Because I ended up with....drumroll please.......
A matching Serenity slouchy hat!
See? Doesn't it look like it was planned? Like I totally MEANT to knit myself a matching hat? And not at all like I was a total idiot and knitted one sleeve on dpns and one sleeve on a circular needle to make one 3-4 inches larger than the other, so I had to knit a 3rd sleeve on dpns. RIGHT? TOTALLY PLANNED.
You know, for a woman that hates knitting sleeves, I'm thinking this was a pretty damn cool idea. I may just have to knit myself a 3rd sleeve with a few extra stitches for all my sweaters! I have to say, it rocks. It really, really does.