The very first thing you can do is DARN them! There's lots of tutorials on how to do this, so I'll just leave a few links below. I'm not fancy schmancy about it, I just thread a darning needle with some sock yarn that may or may not match the socks in question and weave back and forth until I've created a little fabric to cover the hole.

What do you do when you've darned and darned and DARN IT the whole foot of the sock is too weak to darn any more? Do you throw them out? NO! DON'T DO IT! There's lots you can still do! I've got at least 4 ideas to share here. If you've got more ideas, please leave a comment to share too!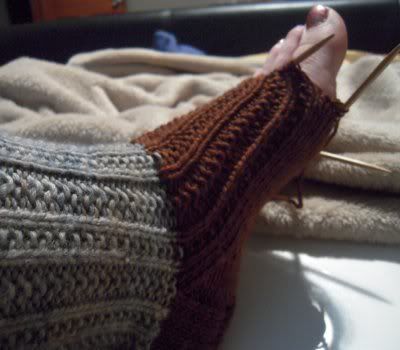 DARN-IT! TreasureGoddess Tutorial--How to knit a new foot for your sock!
Did you knit the Elizabeth Zimmermann pattern for replacable sock feet? Good for you. You don't need this tutorial at all. Go off and feel smug in your preparedness and leave the rest of us alone.
This tutorial is actually designed for socks knit top-down, but would also work for toe-uppers. You may have a little ridge at the join if your sock was knit toe-up.
Step 1: Pick the yarn for your new footed socks. I picked a yarn that would stand out for ease of the tutorial (and because these socks are so old that I've not got the original yarn anymore anyway). You can pick something that coordinates or go for a contrast for shock value. Whatever floats your boat. or rocks your socks.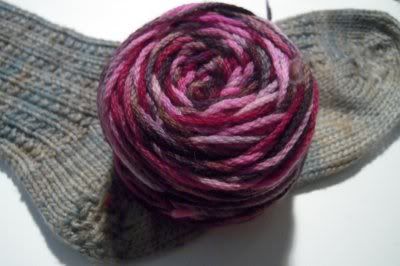 Step 2: Make the snip. Snip ONE STITCH just above where your holes or weak spots are. If it's just the toes, snip right before that area. These socks have entire week bottoms, heels, toes, etc, so I'm gonna snip just where the heel flap begins after the cuff. Because I never really close that little eyelet left from my turned heel, I started there.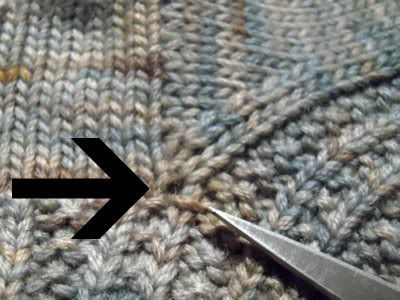 Step 3: Use a knitting needle to work that snipped yarn through all the way around the foot, separating the good part from the holey part.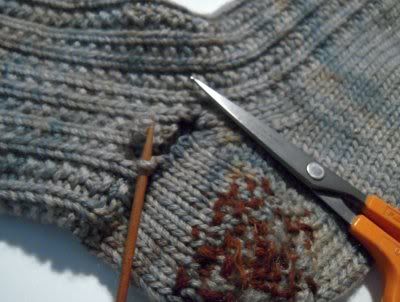 Step 4: Put loose stitches from cuff onto double pointed needles.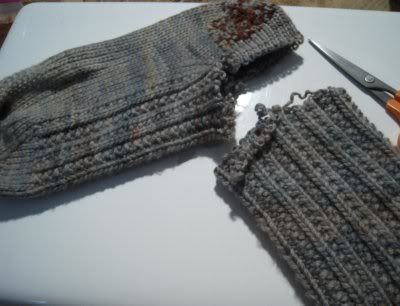 Step 5: Knit yourself a new foot for your socks (or new toes if you only had to reknit that part).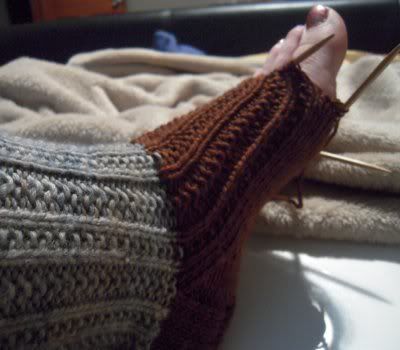 Step 6: Parade about in your NEW non-holey socks! Impress your friends, bore your family, tell everyone you know about your resourcefulness and sock knitting prowess.
I've not finished my new/old pair of socks yet so I'll post that photo with next week's super cool thing to do with holey socks tip!
Darning Links:
Darning Tutorial from Knitty
ehow to darn socks
Youtube Darning Socks video