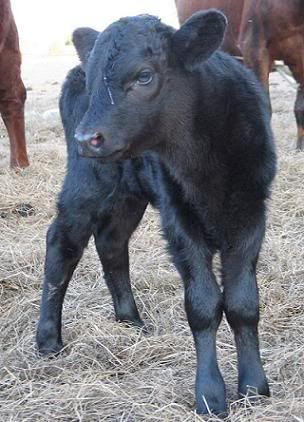 First the happy news:
Meet Number 42. That's her eartag number and apparently her name. She's also referred to as "Hamburger Maker" instead of "Hamburger" as the boy-baby cows have been named in the past. We're hoping she grows strong and becomes a good mama cow like her momma is turning out to be. This is the first heifer calf we've gotten down at Jeff's friend's farm. I love saying things like "Oh, it's a girl-baby cow!" around the local ranchers. You can actually see them wince when I say "cows". They're apparently "cattle" or "heifer calves" or "steers" and "bulls". I even made one neighbor choke on his chaw when I called the bulls in his field "such pretty cows" last fall. His expression? Priceless.
Now the not-so-happy news:
We've got no farm. *sigh* I really REALLY liked this one. REALLY. Well, thanks to the wisdom of the US Government, we were originally given pre-approval on a big farm loan. Then we applied officially once the contract was awarded to us for our farm. Then they turned us down because they said we had too much money. The farm bureau suggested we add more detail to our expenses. So we did. Then we were turned down because we didn't have enough money. Sweet. We were able to get financing with a local farm co-op lender, but holy crap-a-moly, with the interest rate being almost 3 times the govt farm rate and a big down payment, it would have meant HUGE monthy payments and bye-bye to all of our savings. Each and every penny. Even with the rent from the resident Formerly-Amish now turned Bull Rider, it would have wiped us out.
When we looked at the big picture we realized this wasn't the absolute farm for us to sink our entire future into at this time. Even though the house was quaint, the land picturesque, the location not too close and not too far from a town, spring fed well & pond AND it's own graveyard and potential farm zombies.... not to mention the fact that hiking around on the land didn't cover every inch of my body with ticks and other creepy crawlies. Damn. Damn, Damn, Damn. I really wanted this place. We're still looking and not in any hurry. I'm sure the perfect place will appear when we're ready. Dammit.
For now, we've got Jeff's friend's farm to do our galavanting on. The fact that it is, in fact, infested with bazillions of seed ticks (I can't even type those words without getting chills and itching all over ICK!), has a crappy ass old trailer with NO BATHROOM as the only place to stay on it isn't supposed to depress me in the least. I'm supposed to think of that land as our land and just bring my spinning wheel and knitting along to "enjoy nature" and crap. Damn. Better start buying up the damn bug spray.
Martha Stewart's tv show
on Monday is going to be her Yarn Show. I may have to head home early from work to see it. I just saw that you can watch old episodes on her site as well. I watched the show back in the good-ol-working-from-home days, but may have to watch a few online to get back into the creative spirit. I know it may not be politically correct, but I heart Martha Stewart. She's one of my two favorite prison biotches ever.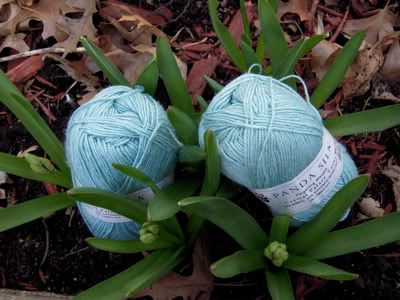 This is some beautiful yarn that came home from AZ with my dear friend
Chery Knits
and I think it wants to grow up to become
Spring Forward Socks
. Casting on this weekend!
Well, I guess not having our farm now means more time to figure out uses for the four HUGE tubs of old acrylic yarn. Cow cosies? OH, I mean Cattle Cosies or chicken coops or even bug-proof tents as suggested by
Teri
. Or maybe I'll just crochet a few more ripple afghans, while sighing deeply and only slightly cursing the farm bureau for sticking me back with the whole peeing behind trees and de-ticking myself each time we go to the country.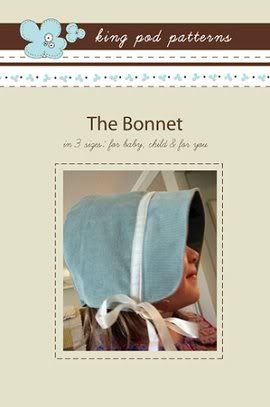 OK, you wanna know the really sad part? I had just bought myself a pattern for a real, live Little House On the Prairie sunbonnet. Seriously.
The Bonnet
by Amy Karol of king pod patterns. Come on, I can't be the only one that would wants to look a little like Ma when working out in my garden or tending to whatever critters we kept on our farm, right? I think I'll make it anyway.