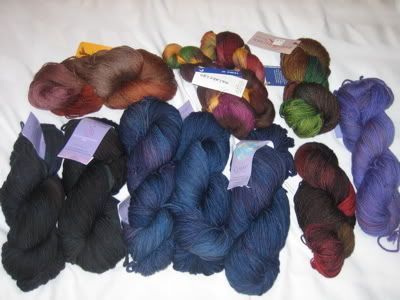 Oh my holy hell. Do you KNOW how many yarn shops there are in the Minneapolis area? It boggles the mind. I've also noticed an awful lot of liquor stores. Long winters. Travel tip----instead of just googling for yarn shops when you travel, you miss so many cool shops that may not have websites---google for the local knitting guilds and check out their list of shops! Here's the list for the
Minnesota Knitter's Guild
. If I make it to two or three shops each trip, I should be busy from now until I retire, should I still be working for the same company. Last trip I visited Skeins (no website) and the
Yarn Cafe
. I wanted to go back to both of these this time, but made myself go somewhere new.
This trip I went to
Depth of Field
which I must say was a FABULOUS fun place to visit, entirely too much money was spent. Let's just say malabrigo lace found its way into my hands and didn't want to leave. mmmmmmmmmmm malabrigo. On a side note, did you hear about the fire at the
Malabrigo plant?
OH let's hope they find a place to keep up their dying and such!
Tonight I took myself to Excelsior after work and stopped in at
Coldwater Collaborative
, a very quaint shop in a beautiful little town in the middle of all these suburbs. Much money was spent here as well, I left with some of the most amazing sock yarn I've ever had the pleasure of fondling. Casbah sockyarn from Hand Maiden. 80% merino, 10% cashmere, 10% nylon. Gorgeous colors. At that moment I could have rationalized selling off a kidney just to go home with the rest of those skeins.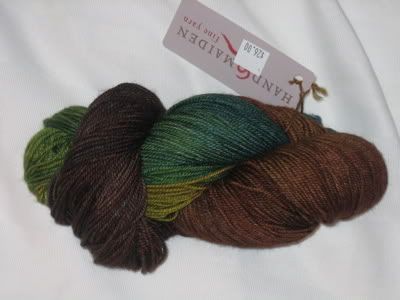 ANYWAY, very cool shop! It was a beautiful night. I wandered down the block, took myself to dinner and sat at an outside table eating my steak and taters, walked further down the road, and there's a LAKE there. I had no idea. I know this land is full of lakes, but man it just sneaks up on you. BEAUTIFUL. I sat on a bench, knitting away, enjoying the evening. That's the kind of business trip I like.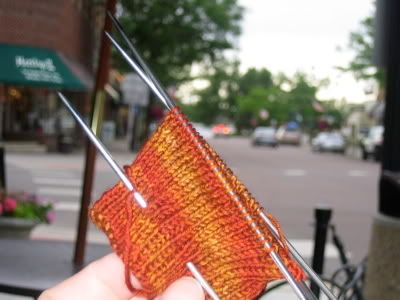 Wishing you good knitting views where ever you sit and knit!