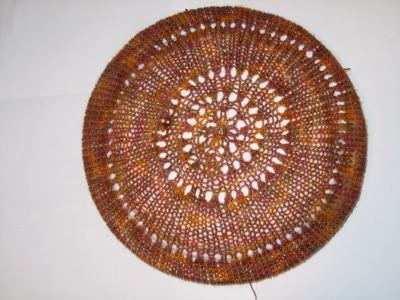 The center of my pi shawl from the July projects from EZ's
Knitter's Almanac
, quite possibly my very favorite knitting book of all time. I just reread it every so often when I'm feeling out of sorts. My favorite thing to do? Have a very important errand that forces me to leave Jeff with all the kids, take myself to Taco Via, eating refried beans and chips and reading my Knitter's Almanac. I leave refreshed, ready to deal with almost anything the crazy house full of kids throws at me and with a very full belly. I know, I know. Therapy would probably cost a lot less than my yarn habit, but it works for me. Plus there's usually good food involved.
I'm too lazy to actually take the shawl off the needles and photograph it properly. This is the high tech version, folded a paper plate, shoved it in there and bunched up the other half of the shawl underneath. Center the whole thing on two pieces of paper? Stunning. I'm actually on what I think will be the last 20 rounds. Should be adding a border and casting the whole thing off soon.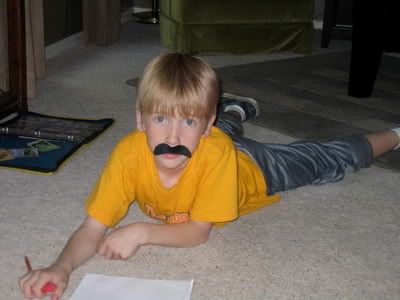 The shin splints? From my little adventure trying to not leave this munchkin waiting for me at the airport. I was wearing moderately inappropriate shoes. Low heeled flippy sandals that I went running across the landscape between terminals. At least they weren't fancy high heelers that would have torn up my feet. I've just got a good case of the "OW! Damn! OW!'s" now with every step I take. Looking at that face, it was totally worth it.
Jeff and the 3 boys (damn I'm outnumbered seriously without my daughter here) have decided tonight's the night for the big family tennis tournament. I play tennis about once a year. I've already played with Jeff a week ago when it felt like 138 degrees in the sun. It wasn't pretty. I think that plus the shin splints ought to be enough to get me some more "errand time" but it doesn't sound like that's gonna fly.