First, the cute stuff. Free pattern: Capitan by Rosie G.. Yarn: Galway chunky 100% wool. Needles: 10's. I made three of these puppies. I saw them on Tiennie's blog and fell in love with this pattern. Lizzie thinks it's a keeper. The other two are going to her cousins. The pattern has this cute little tab across the brim with two big buttons on it, but being that a) I'm lazy; and b) I want INSTANT gratification; theses were made sans cute tab.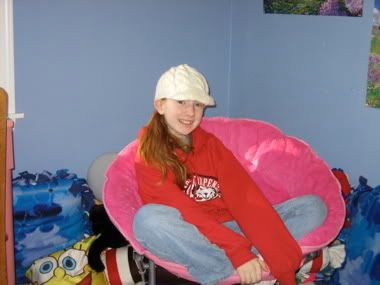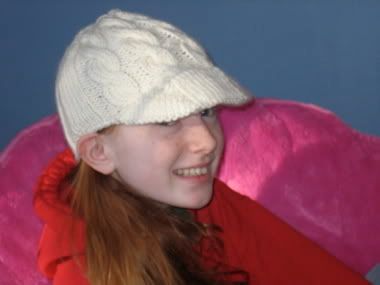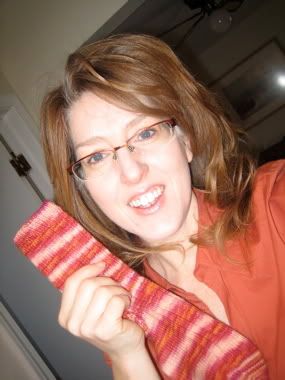 Yes, I do realize those don't quite match my shirt. But I like them anyway. This pair of socks has really got me thinking. Remembering. I haven't matched my socks to my outfits since the mid 80's and early 90's. I wouldn't just match my socks to the polo shirt I wore, with collar flipped up, of course. Oh no, I'd match TWO pairs of socks one folded "just so" on top of the other one so they both showed with my penny loafers and denim mini to the TWO polo shirts I wore on top of the other with the collars flipped up to show both in all their matchingness glory.
This little trip down memory lane took me to the day when orange became my personal superpower color. My aunt took me for the weekend. We'd had our colors done (very 80's, no?) and it turned out this bright, obnoxious orange color was my "personal best" shade. I thought I would barf. Then my aunt found a little shop in Prairie Village that sold clothes based on your colors, or seasons or whatever the heck it was. So, three hours later I was the proud owner of 5 new outfits, one of whom I detested. It was an obnoxiously bright orange cotton short sleeved cabled sweater with a white full cotton skirt with an orange print of some kind. It appeared to be a package deal, the orange monstrosity and the other cool clothes or nothing at all. So, the orange outfit came home with me.
I'd be reminded to pull it out for special events. I'd put it on grudgingly, but then it turned out that whenever I wore it, good things happened. I'd get an A in the presentation I had to do at school. I'd beat my arch-enemy/rival for the flute first chair challenge. I'd get asked out by whatever boy I dreamed was the coolest that week. Because I believed I was unstoppable in that damn sweater, I really was. I think I wore it to shreds. I think this is why my subconscious went insane and decided to order orange and green glasses a few months ago. Seriously? Who gets ORANGE glasses? I know, they look "coppery" on me in just the right light. They're still orange. I finally realized THAT's why I lost my mind that day. It was the sweater all over again. They must not have inherited the super powers as I was wearing them when I backed into the neighbor's car last month. Damn prius. Just wrote a check for $925 to get that fixed.
Then, when knitting with my dear friend
Chery
, she mentioned that she had some bright orange cascade 220 that just wasn't working out in the sweater she'd planned and did I think I'd want it? Oh yeah. Come to me orange yarn, come to me!
OK, so last flashback now, I promise. I remembered how I could stand on one foot and lift the other foot behind my head. I thought hey, how cute of a picture would it be to hold my foot up in front of my shirt? Yeah. Well, I'm a few months of 40 now, and it almost killed me to get my foot to my damn waist.