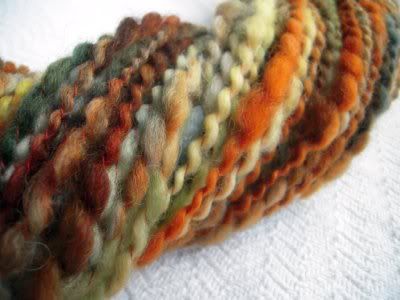 Autumn Glory handspun BFL wool yarn by TreasureGoddess

I dearly love the fall. It's my favorite time of the year. Football, cool evenings, WOOL SOCKS, wool EVERYTHING! It's time to pull out the stash of hand knit socks. I'm sure you all have your socks safely stored away, clean and pristine with no holes or weak spots as they've all been darned already, right? If so, you're WAY better than I am. I pulled my pile of socks out. Yes, pile. It was a big hairy pile of socks and only about half of them were cleaned, none of them darned, it was a big mess. I had a hard time pulling out an actual pair that was wearable.
SO these next couple of weeks before the cold sets in I'm going to work to get things ship shape for my tootsies and those of my family. They've all now been washed and are hanging dry. I'll share with you my sock issues and how I plan to deal with them. Maybe it'll help you out too. Maybe it'll inspire you to fix up your woolies. OR inspire you to KNIT some socks for yourself. There's nothing better than putting on a pair of wool socks. nothing!
The only issue I have holding me back from knitting more socks is I have the socks that never end on the needles. NEVER ENDING socks. The husband has decided that he, too, loves handknit wool socks. Wonderful! Except the husband also decided last year that he ONLY loves KNEE HIGH wool socks now. I'm not a fancy schmancy sock knitter. I'm a 3X1 rib sock knitter. It's comforting, easy and fits EVERYONE. No, I'm not doing calf shaping on his socks. I'm just knitting 3X1 rib (Knit 3, Purl 1) FOR freaking EVER! I've actually finished the toe on sock #1 and now have to steel myself to knit a dark grey blah tube yet again.
The only good thing is that my husband picked out bright orangish-red sockyarn for his feet! It's the light at the end of my woolie tunnel. To keep myself from going crazy, I'm rewarding myself by knitting a bit of (what else?) MOHAIR! :) Here's my start to
Mohair Bias Loop
designed by Churchmouse Yarns & Teas. Everything's better with Mohair!