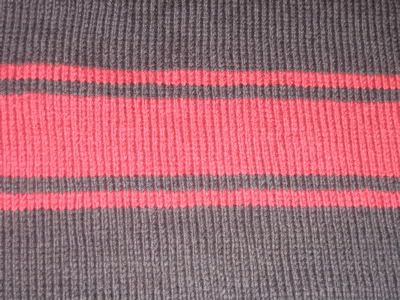 One and a half sleeves to go. Stupid Christmas sweater. Stupid knitter. Thinking, "Oh, I'll knit my husband a sweater for Christmas and it's now DECEMBER 6th!" Cripes almighty.
Turn the square hat completed and delivered. (no pics as camera's batteries were dead.) It rocked. Black cascade 220 with the taupe colored part of a ball of noro kureyon for the brother in law. He loved it and wears it already.
Mom's THIRD and FINAL red hat. Also delivered with no pictures. I really need a new camera. That whole bouncing-on-concrete-and-puddles-of-beer isn't so good on digital cameras. This one she seems to like. Pattern was el capitan and yarn was lambs pride bulky. Gorgeous. I'll get a pic sometime and update it.
Sorry no links to patterns posted, I'm using every spare minute to knit those damn sleeves. I really want Jeff to open his sweater on Christmas Eve afternoon before our family parties, but we'll see. Stop light knitting, bathroom knitting, elevator knitting, you name it, I'm doing it.
I did absolutely NO Xmas knitting last year. I'm thinking that wasn't a bad idea. I'll spend next year doing the "Oh, here's something I knit for you just BECAUSE, not because it's Christmas." Christmas knitting can't be healthy. Seriously, I found myself trying to convince myself that Jeff would really appreciate 3/4 length sleeves to save on time. Yeah. Good thing some of those voices in my head have sense, huh?
OH, to save myself from black cotton yarn stockinette coma (rowan calmer, but STILL cotton, ugh) I made a mini project just for me. (We selfish knitters have a really hard time knitting for just others....one for you, one for me...). Chickadee cowl (free pattern on ravelry) knit out of my hand spun alpaca. LOVING it. Again, I apologize for the crappy pictures. It does stop the wind and is sooooooooo soft and snuggly. I can't wait to make a hat to match out of the other alpaca I spun up. It WILL have to wait until after the Xmas sweater is done. The close-up picture freaks me out a little, as it resembles a bee-hive full of bees all thronging around their queen and bees scare me. Ick. Seriously, it's gorgeous in real life. An action shot will come soon hopefully.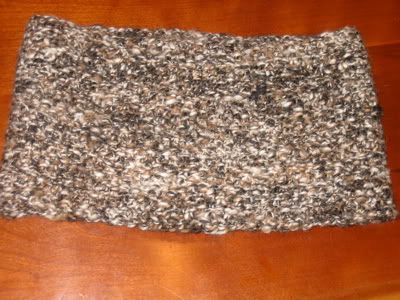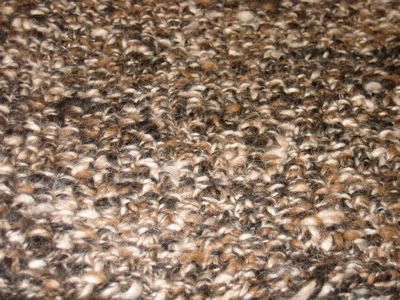 MERRY CHRISTMAS everyone! Happy Hanukkah too! Happy Festivus for the rest of us. Whatever floats your boat, hope it's a happy one filled with friends, family and good, warm knits.
May all your holiday knits be completed on time and may you get to SLEEP at some point in the next four days...I'm not sure I will be.