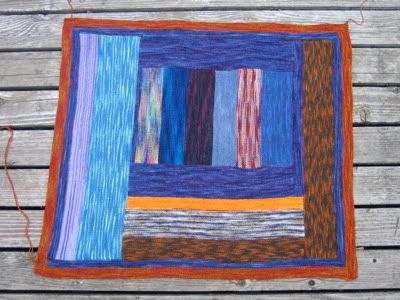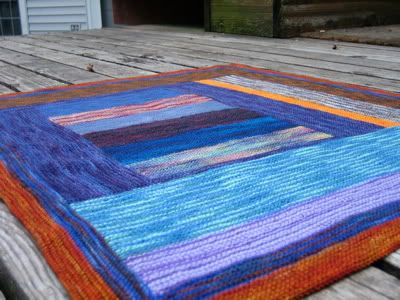 OK, so I know it looks like the earlier pictures, but it's BIGGER now. It's now officially baby blanket sized. If I were a good aunt, I'd gift it to my niece-to-be so that the child can grow up chewing on fabulous wool sockyarn. But, I'm not giving this blanket up yet. It's a memory keeper of all the socks I've knit. When I go over it I can tell you what sockyarn each is, where I bought it, when I knit it, whom for, and usually a story of what was going on in my life at the time of the knitting. Of course I can't tell you where I put my keys and have lost my wallet IN MY HOUSE again. I've done that 4 times in the last 3 months. cripes almighty. Hey, I can't put gas in my truck, but I can tell you what yarn I used to knit Joey's sk8er boi socks. Yes, that's helpful in everyday life. Ah well. I have decided the baby girl to be needs a garter stitch blanket, and have one in progress. I've started on my 2nd square for this sockyarn bits blanket and hope to make 4 and seam them together with possibly some more blocks around the outside of the whole whopper once it's almost couch potato lounging sized.
Anyone catch the Elaine Spare a Square Seinfeld reference? Yes, bathroom humor at its finest. SO, a couple of weeks before the dancing incident, I was taking a creative knitting break. On super stressful days with monster deadlines hanging above my head I need a little help to calm down and tackle the work. I take a break. I knit. Stall knitting. Hey, we've not got a nice lobby or anything, and this whole working-full-time thing is seriously cramping my knitting time. Knitting is my prozac. You won't like me when I'm not knitting. You work with what you've got. If Bathroom Knitting a few rows keeps me from killing people, I think that's a small price to pay, don't you?
ANYWAY, I'm quietly sitting and knitting. The sockyarn ball had a little snag of a knot in it, when I gave a tug, it popped out of my bag and rolled over to the lady sitting next door. There's a little "uummmmmmmm, is this yours?" and the ball is handed back to me under the stall wall. I say "thanks." She says, "You're not crocheting in there, are you?" laughing nervously. I laugh back and say "of course not, I'm knitting." Laughter stops. Dead silence. Welcome to my world.
I've also been working on this and that when not knitting away on my sockyarn blanket and daughter's K State socks.
Lady February Sweater
in orange Cascade 220, the neck of
Wisteria
in cascade 220 heaters, from the
Twist Collective
, have you SEEN that site? Oh I am in love! Also bought the new book from Wendy Bernard,
Custom Knits
, which I had to call all the bookstores in town to find. The Barnes & Noble in Town Center in Leawood, KS had a few copies when I snuck out for a "quick break" and hauled ass across town to get my book! Cast on for
Slinky Ribs
last night with some sunflower yellowish silky wool from the stash. OH MAN I love this book. It's right up there with my love of
Fitted Knits
by Stefanie Japel.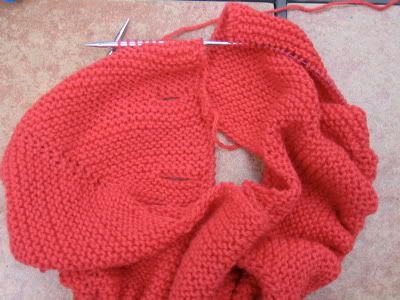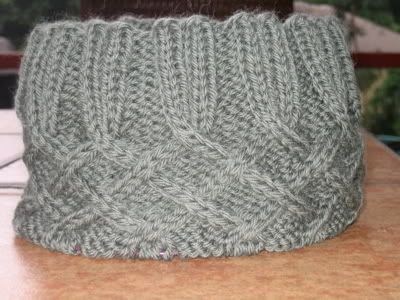 Speaking of Stefanie Japel, you know a woman just can't have too many sleeveless wool sweaters. Right? Well, a fabulous YARN SALE at Knit Wit in Olathe, KS is now the reason I'm knitting matching sleeveless mock turtlenecks from Fitted Knits for my daughter and I. Scored some purple frog tree worsted wool at half price, HALF PRICE I SAID, and as soon as I can get some knitting done on these projects they will be the next to be cast on. Measured my daughter and think making the body skinnier will be easy, no real waist shaping needed, but will have to figure out how much to shorten her diagonal armpit to shoulder raglan seam.
Knit Wit has apparently lost her next door storage space, so is putting a LOT of yarn at half off. I saw Frog Tree, Nashua, cashmere, all kinds of goodies. Get out there and check it out if you have a chance. She's also got a ton of plastic tubs full of yarn for $3/skein as well.
I also felted up some bags. I made four of the little bitty ones that still need icord straps knitted and felted.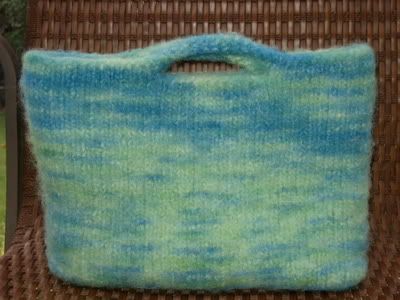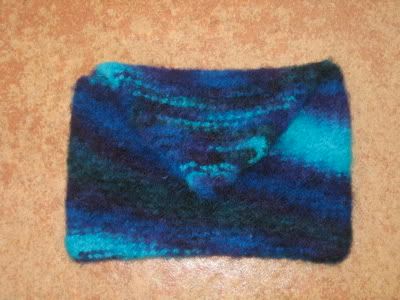 Happy weekend, happy shopping and happy knitting everyone!