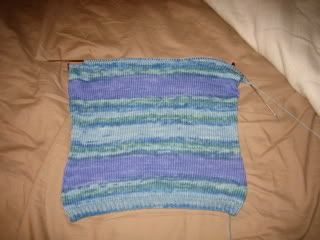 I CAN'T STAND IT!!! I've just got to start something else. Something NOW. I don't know what, but nothing is speaking to me. Oh, I have projects speaking to me, let me rephrase. Nothing is seducing me. A lot of projects are getting quite pissy and wanting attention, but they're just not getting any action. I gave up on all else and knit on my current mom & daughter chickami project (doing mine first since I need more yarn) and then will be able to have Elizabeth try it on and decide how to do the shaping on hers and how many stitches to subtract, etc. I also still have my first toe-up 2 socks on 2 circs from
Chery Knits
but they're just not doing it for me either. I'm nearing the point at which I get to start the heel and should be all aflutter, but I'm all a-blah here too. ***OH, it was pointed out to me by
Teri
that my beginnings of the little toes did not look like knitted vaginas. I very grown-up-idly said "DO TOO!" Teri, "DO NOT! They look like knitted VULVAS." Yup. I stand corrected. I have a few various other projects waiting half-way done as well. I want something new. Ah well.
OH I had the best weekend ever! Friday night was my kids' school's carnival and was actually a lot of fun for the adults as well as the kids. They even had a band of local cops who called themselves "Probable Cause." HAH! They were rockin along. Good food, jumping things, climbing things, good food, mariachi bands, good times.
Saturday since
Carmen
ditched us for her man, we did our knit-together at my house. There was much petting of yarn, knitting of socks and sweaters, eating of fabulous food out on our screened-in back porch of our little Weasley-ish house of many levels. It worked out perfect because my kids could run and play around the house and the neighborhood and I could sit & knit. The weather was BEAUTIFUL and it just rocked. Seriously my favorite knitting get-together yet. OH and we have to do it again because Jeff got all inspired and now we have PARTY LIGHTS hanging outside. He also washed the lantern hurricanes (apparently I blacked them up when I tried to start the fires. Me and fire are not a good combination) and added 3 more lights for my evening knitting, so I figure party lights are a good reason for a party, right?
Johanna
,
Joanna
,
Gwen
and I knit our asses off all afternoon and into the evening, then they continued the fun with a winding session after leaving my place.
Teri
even stopped by until her men got back from the Kansas Speedway.
Sunday we went to the Kansas Speedway for the Indy Car race. Someone donated their 4 season tickets to a cf kid family so Joey took us to the races. I've never actually been to a race before. Joey liked it, watched for a few laps and then laid down and went to sleep. Jeff watched, then went and brought back 2 margaritas, 2 hotdogs and 1 pretzel ($40). We brought our own snacks and water bottles or we'd have gone broke. My daughter and I had a blast trying to figure out the whole thing. She kept track of who'd lapped whom and who was in the lead and kept signaling me (we were all wearing earplugs) and just had so much fun. I had such a good time I DIDN'T EVEN KNIT! I'm not figuring on making a habit of the whole race thing, 200 times around a circle is about enough fun for me for a while. I liked that the Target cars were in the lead most of the race, not because of the drivers, just because I happen to love Target.
Tonight I learned that if you double a recipe for lasagne, you'd damn well better double the EGGS in the recipe as well. Yup, I served a lasagne so sloppy it should have been called lasagne soup for my mom's birthday dinner. It tasted great, but pretty much slopped right around the plate. damn. Ah well, everyone had 2nds, so it must not have been too bad. Lasagne, garlic bread, homemade guacamole (yes I KNOW it doesn't go with Italian, but the stuff I made Sat. was so good I had to have MORE tonight), salad, beer, birthday cake and chocolate chip cookies. Just roll me to bed. mmmmmmm
Enough typing, I'm gonna sit here and listen to some Harry Potter and the Chamber of Secrets and KNIT! I'm listening to them all now in order to get ready for the new movie and the new book coming this summer. Yes, I am a dork. You should all know that by now. When does Charmed Knits come out? Sometime in May is all I heard.