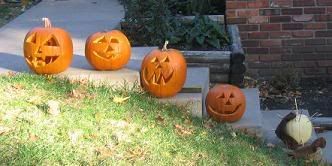 We did the carving of the pumpkins last night. The kids drew on the faces, Jeff wielded the mighty serrated knife and I helped on the scooping of the guts. I ran out of steam and decided to boot the very complicated, intricate pattern I'd picked out for my little albino pumpkin and decided to spike it with the old metal needles I had sitting in a vase. It actually was quite good therapy to impale the poor thing. Very good for taking out aggression and frustration!
The socks are Opal hand-dyed sockyarn and I love them! I finished them last night and even sewed in the ends right away instead of sticking them aside with tails trailing for another day...or another month as it usually turns out. They're going on my feet tonight for the COLD trick-or-treating evening. It was 76 degrees yesterday, sunny, a brisk fall breeze, and BEAUTIFUL!!! Today it's about 36 degrees! Ah well, we've had plenty of Halloween nights in sleet and snow, so I'm thinking we're still luckier than many out there. HAVE FUN TRICK-OR-TREATING!!!!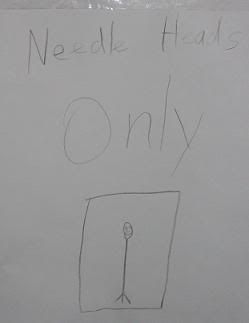 Needle Heads ONLY! This was posted on the door of my daughter's room after a night spent with all four kids. My girl had had enough of all those boys!! I got a kick out of it, because when I asked her what was going on, she said, "Mom, only you and I can come in here. If they want to come in, they have to learn to knit!" We had a lovely hour of peace and quiet while various grunting, farting, scratching and rough-housing was going on in the rest of the house. Needle Heads Only!